So, what better thing to do on a day commonly referred to by its "birdie" moniker than go Birding!? The day's events had me out solo (and out of the lady's hair while the feast was prepared :)) so I decided I would finally get up to Edgewater to see the highly controversial (okay, maybe "highly" is the wrong word, but controversial seems to fit the bill (pun intended)) Monk Parakeets. The transplanted South American species has kicked up dust and discussion in some circles due to their loud squawks, and large nests. Many neighbors of the birds have complained about their loud calls at all hours of the day. Utility Companies have complained about destroyed electrical equipment and transformer damage due to their large nests (a lot of times the nests can get wet and fall on a transformer causing damage). But, there is also beauty in their flight and glamour in their color and general disposition. They can virtually transform a busy city into an island retreat.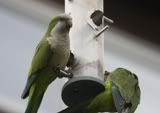 There is all that, and a separate controversy (there's that word again) over the "countable" status as a New Jersey bird (and many other states where the parakeets have built long standing populations). The invasive birds started taking hold in Florida in the 60s and 70s and soon were popping up across the country. Early efforts to remove them were unsuccessful and now some people say New Jersey's population has been going strong for over 30 years. This has led some to ask for its inclusion like other invasive bird species the European Starling and the House Sparrow.
I myself had put off a trip to Edgewater, I am ashamed to say, because it wasn't something I could "tick" off my list. This definitely weighed on my conscious especially because Jeanette and I had seen Black-hooded Parakeets in Florida and loved their demeanor and "style." I hoped I could just enjoy their existence and wondered if seeing these guys in a busy Jersey metro area would hold the same appeal as our earlier encounter.
So, I had received amazingly accurate directions from Stephanie Seymour, of purplechickadee.com (check it out it's a great site!), and quickly got out of the car to their raucous calls (one I personally love listening to as it reminds me of a tropical setting). I spun around this little park and was treated to view after view of beautiful Parakeets. In the trees, on their stick built nests, and flying over head I had to literally remind myself I was in the middle of New Jersey! I was quickly won over and state bird or not I like seeing Monk Parakeets in New Jersey.
After my parakeet love session ended, I decided to drive another 20 minutes up to Piermont Pier in New York. A first winter male King Eider had made his way to the end of said pier and had been around for just under a week. I hadn't seen the King Eider before and was hoping to land my 420th life bird (not as sweet as landing it in NJ as it would have been my 299 NJ bird but sweet none the less :)).
A fellow birder pointed him out at about 20 yards from the end of the pier and I got great looks and some overcast pictures. This ended a wonderful birding outing and led to the begging of a delicious bird filled meal. Is it any wonder I am hopelessly obsessed with birds? Happy Thanksgiving!
---