Philadelphia Vireo:
A Northern Wheatear was seen and photographed on Friday so a trip to Cape May on Sat was needed. 🙂 The morning started with no sign of the Wheatear, which may have turned out to be a one day wonder, but quickly turned around with a
Golden-winged Warbler
and a pair of
Philadelphia Vireo
.  Higbee produced the mentioned birds with the Warbler making the rounds from the porta-john (is that really what you call them? Whatever, the bathroom things) area through to the path in the far left corner of the parking lot leading to the first field. It was seen all-too-fleetingly on a few occasions by different groups of birders. Mine was identifiable but far from satisfying. On the contrary, we were treated to 2 (at least two there were reports of others and maybe even another individual along with these 2) very obliging Philly Vireos that jumped out into the sun and shown for us all to see. I stopped back by the Hawkwatch to see if the Wheatear had made an appearance and to check on the local goings-on.
Eagle vs. Osprey:
As usual this time of year, the deck was packed with birders, new and experienced (see how I avoided "old" there? :)) all looking to see what all the fuss was about. The friendly staff, when not tending to the hawk watching, was greeting new visitors and offering whatever assistance they could provide. I heard many asking questions and others borrowing binoculars. All queries met with satisfying answers. Who knows how many "birders" were developed today on that spot. Although my time was short there, I was treated to swooping
Merlin
, circling
Sharp-shinned Hawk
and
Coopers Hawk
, and a pack of beautiful
American Kestrel
. My main event (and as I understand it was really Round 2) was the
Bald Eagle
vs.
Osprey
battle for a late breakfast fish. This happens quite often there and it never gets old. The Osprey does the work of catching the food and then the Eagle swoops in to startle and bully the prize away. They turned and veered and rose and darted, all in close proximity to us eager onlookers. In the end, stamina seemed to win the day when the Eagle made a final go of it only to come up short. The Osprey had won this round. (I heard the earlier occurrence ended with a victorious Eagle) I actually got some pretty cool pictures of this duel and "fun" had truly reigned.
Cattle Egret:
The rest of the morning was put in at the Brig with a wonderfully energetic
Cattle Egret
and a pack of lounging
Saltmarsh Sharp-tailed Sparrows
.
Saltmarsh Sharp-tailed Sparrow: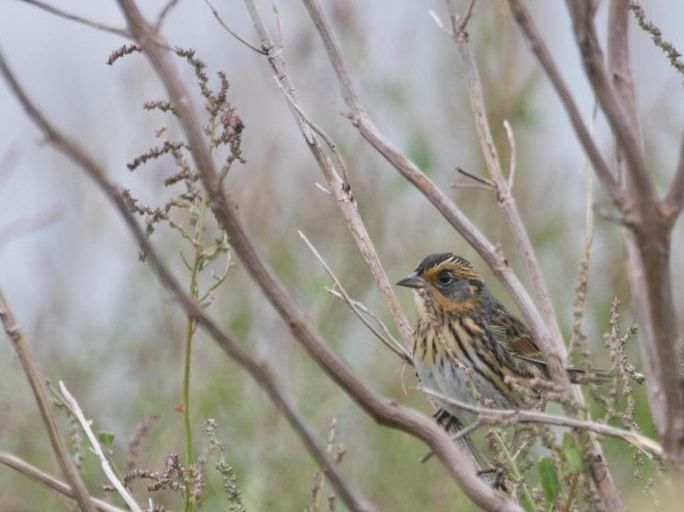 ---